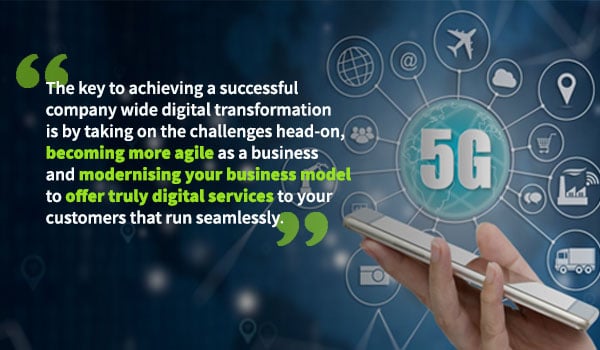 25 years have passed since the inception of the 'A Declaration of the Independence of Cyberspace' a critically acclaimed paper written by John Perry Barlow in response to the US Telecommunications Act of 1996. This was when Barlow initially introduced us to the concept of 'Digital Natives'. At the time, this was a complete overhaul in telecommunications law since more than sixty years ago and since then the arrival and rapid adoption of digital technology has of course profoundly impacted the lives of everyone in the world.
To that end, it's clear to see that the pace of technological innovation hasn't slowed down and will only continue to increase further as we now venture into the fourth industrial revolution. Today more than ever before, this is placing an increasing amount of pressure on Telcos to transform the way in which they structure their operations in order to effectively engage with subscribers.
Business in a variety of industries including the Telecoms sector has shifted their focus to next-generation cloud-native technologies to further develop and enhance their business offering and get increase their market share. However, there is a lot of confusion and even misinformation in the industry about what cloud-native means, never mind what cloud-native systems themselves are.
A recent report by TM Forum was published to decrypt the 'Digital Natives' terminology and provide operators with some guidance on how they can go about adopting such next-generation technology in an effort to capitalise on opportunities presented by public cloud options. The report highlighted that in many aspects, public cloud was the "Wild West" for Telcos, which TM Forum explains is why its research revealed that many Communication Service Providers (CSPs) have deployed less than 5% of their operations software in public cloud offerings.
Interestingly, the report also noted that we are in a time where telcos need to be investing in operational and business support systems (OSS/BSS) more so than ever before in light of the growing demand for 5G services and operational rollouts. The Cloud Native Computing Foundation meanwhile defines cloud-native as referring to "applications or services that are container-packaged, dynamically scheduled and micro services-oriented."
Whilst this may be credible along with the various other industry research conducted into cloud-native software offerings, we should instead be focusing on how operators can become Digital-Natives, and more specifically, how they can make use of and benefit from Digital Native Customer Management solutions. In many cases, this shift in focus requires a shift in mindset for telcos, with a transition to a more digitised way of running operations and a new approach to customer experience. Traditionally, operators have designed business models to enable customers to interact with their employees, with the role of a software platform being to support this interaction.
In today's market, telcos need to be able to differentiate their services and offer customers the ability to interact with and respond to digital experiences, while still continuing to improve efficiency in their day-to-day operations. This is where the industry as a whole needs to take the opportunity to learn from the digital transformation success stories of other sectors. Advanced digitalisation of services in industries such as this has raised the bar for customer services and increased expectations for ease of use, personalisation and interaction.
The key to achieving a successful companywide digital transformation is by taking on the challenges head-on, becoming more agile as a business and modernising your business model to offer truly digital services to your customers that run seamlessly. In other words, telcos need to be able to implement cloud-based and omnichannel solutions that enable them to lay the foundation for a truly customer-centric digital business, complemented by data-driven intelligence and flexible monetisation models.
It's evident that the global telecoms industry landscape is changing at an unprecedented level and any new disruptions in technology and business models are bound to open up exciting new opportunities. The sticking point here is that it also highlights a number of critical challenges to telcos' future including high-value service providers, not least increasing costs along with shrinking margins and high churn rates.
One of the most critical aspects of the future right now is 5G technology, especially as it starts to enable a proliferation of new, customisable services, all of which will require a new granularity of service level agreements. To cope with this, telcos will need to achieve a new level of agility across their whole ecosystem, both from an infrastructure standpoint as well as operationally.
Lastly, many Telcos believe that the most important capabilities needed to compete in today's digital age are remaining agile and being able to respond to market changes very quickly. In order for telcos to achieve this and become true digital natives that can differentiate and scale their operations when needed, they must embrace and invest in modern, digital architecture. By this, we mean solutions that set the foundation for using data for driving business forward, as well as accommodating future innovations to serve customers in digital channels not even known today.

Article originally published for Digitalization World https://digitalisationworld.com/blogs/56220/digital-natives-why-this-could-be-the-key-for-telcos-to-stay-competitive