In this blog, Paul Gainham, Director of Strategic Marketing at MATRIXX Software, and Martin Morgan, Head of Digital Marketing at Qvantel discuss the next stage in digital transformation and why CSPs are now focusing on the B2B market.
Question: The digitalisation of the B2C markets is well underway and most CSPs are starting to see the benefit, but do you think it's fair to say that the B2B market has been overlooked?
MM, Qvantel: I think that's a fair point. The B2B market covers all sizes of companies. From self-employed individuals to micro-businesses with less than 10 employees, to SMEs, then to large and multi-national companies. The larger companies will have account managers to visit them and provide a personalised service. But it's just not cost-effective for CSPs to have dedicated account managers for SMEs. The result is that SMEs often must deal with a call centre. Compare this with the case of an individual who visits a CSP's website, clicks on the tab that says 'for individuals' or 'for consumers', and gets to the start of an online 'buy now' process, signing up for a service and getting onboarded online. It's a different matter for an SME customer when they visit their CSP's website. Next to the 'for consumers' tab, there will be a 'for business' tab. When someone clicks on this tab then nine times out of ten, they'll get a phone number to call. CSPs need to provide the same digital options that they provide for consumers to business customers.
PG, MATRIXX: We've seen how digitalisation can provide lower operational costs in areas such as customer care, sales, and onboarding in the B2C segment. However, by providing digital channels to B2B customers, especially SMEs, CSPs can save time and money for themselves as well as their customers. We call this the Consumerisation of small-medium enterprises. Every minute spent hanging on a call, waiting for a call service rep to answer, or being routed from one department to another, is time when an SME customer isn't working and therefore isn't earning. All the good corporate messages about delivering a better customer experience can be lost on the owner of a small company who's just spent the last 20 minutes on a call trying to get their mobile and broadband services ordered.
Question: How important is providing digital channels for SMEs to CSPs?
PG, MATRIXX: It's essential if the CSP wants to grow. Consumer ARPUs are flat at best and any report you read on the future of CSPs and 5G shows that CSPs are increasingly betting big on new 5G revenues coming from the B2B space. For a typical CSP, the B2B market typically accounts for 20-40% of overall revenue. This number is forecasted to be over 50% by 2025. It's also worth noting that SMEs make up well over 50% of the entire B2B segment. They represent the sweet spot for growth and giving them the option to have the same digital channels as consumers is a hugely important first step.
MM, Qvantel: SMEs are time poor. They simply don't have the time to deal with multiple suppliers and this is an opportunity for CSPs. Overall, customers trust their CSPs so there's a good opportunity to sell more than just connectivity. TM Forum published a report on digital maturity in October which referred to research from Accenture: It was reported that CSPs have a $110 billion opportunity to sell four services aimed at SMEs. Connectivity would account for $56 billion with SaaS contributing $17 billion. Professional services would amount to another $14 billion with the industry marketplace potentially adding another $23 billion. It's a serious opportunity.
The report also asked, 'what do SMEs want?' and it was no surprise to see that 50% of SMEs want to work with fewer suppliers. At present, two-thirds of SMEs purchase ICT from three or more suppliers. This seems like a good opportunity for CSPs.
If this is so important, why aren't more CSPs digitalising their systems to better serve their SME customers?
MM, Qvantel: You could stick a web front end or an app out there for customers to use but that's the easy part. The touchpoints with customers need to be integrated with back-office systems, such as BSS, revenue management, charging, and subscription management. It's these systems that need to be updated to provide the agility that CSPs need to sell and monetise a wider range of services and to enable their B2B customers to deal through digital channels.
PG, MATRIXX: If you define digitalisation as the ability for SMEs to have dynamic insight and self-help control of their usage, spending, and payment experience in real time, then the market demand is clearly there. A survey conducted by Analysys Mason of 300 global enterprises in Q1 2022 painted a very clear picture of what enterprises overall are looking for in their commercial relationship with telcos.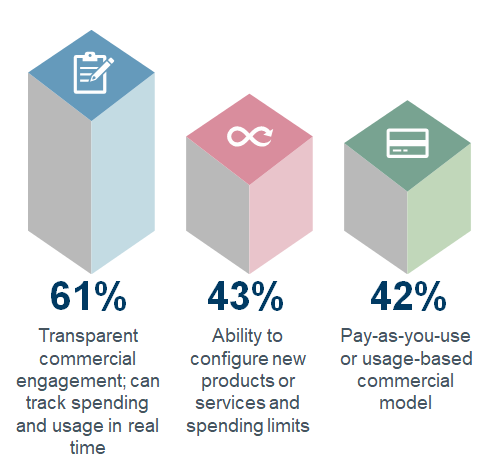 Question: What key capabilities would you like to see delivered as part of the commercial relationship with your CSP?
Source: Analysys Mason survey of 300 enterprise organisations globally
The reason that telcos have struggled is a combination of legacy systems still relying on batch mode monthly billing cycles which is anathema to a dynamic real-time model, a 'blind spot' when it comes to SMEs based on their perceived high cost to serve and distribution scale and finally, maybe a lack of competition in the market. I think it's fair to say in all of those cases that either the market is rapidly changing (in the case of competition from hyperscalers, NEPs, and others) or telcos themselves need to adapt quickly to a new reality if this isn't to be another lost opportunity.
Download the Qvantel / MATRIXX White Paper: B2B - It's Time for Digital Now
Martin Morgan, Qvantel
Paul Gainham, MATRIXX